This summer felt like an extreme throwback to the 90s when Limp Bizkit made waves during their performance at Lollapalooza and on social media with their dad vibes. But the big question is how the band can keep riding those waves.
From enfant terrible to dad vibes
Yes, I'm old enough to remember Limp Bizkit's first hit on MTV. Thing is, the band may have scored big a few decades ago, nu metal has gotten a bad rep over the years, with Limp Bizkit-frontman Fred Durst as the poster boy for that bad reputation. So no one would have expected that they would be one of the rising stars of the Lollapalooza weekend.

Or maybe there was one person who did: Fred Durst himself. While the dude normally wears a red cap and baggy clothes, during the gig at Lollapalooza he sported a dad vibes look, including grey hair and an ugly moustache. And that definitely made the band standout. Add their new single "Dad Vibes" in the mix and the circle is full. Although I do believe that Gen Z's obsession with nostalgia also played a part in their current success.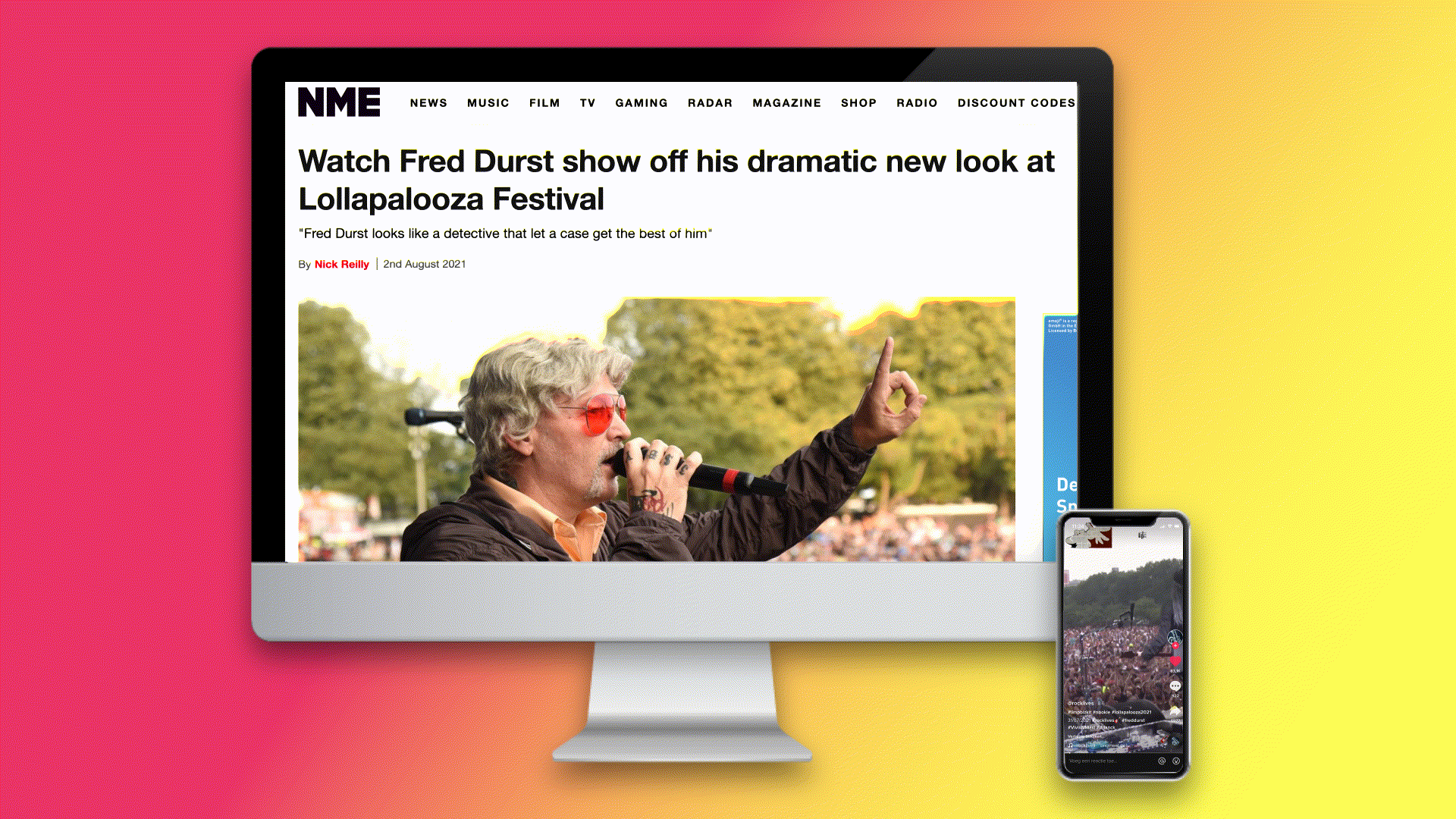 After that weekend, tons of articles, memes and videos where devoted to Durst's strange new look and the great performance they delivered, with some declaring it as their official comeback. 

But then COVID came along …

As I've always been a big fan of the band, I was all for them taking the world and my newsfeed by storm again. Alas, a few days later the band announced they had to postpone their tour because of COVID.
So this begs the question: how can the band keep riding the waves they made during Lollapalooza without being able to perform live? Well, easy: with a kick-ass digital campaign build around those dad vibes.

All about the Dad Vibes campaign
Limp Bizkit appeals to a wide age group: from Millennials to Gen Z, the last one mainly because of their stint at Lollapalooza. The one thing they do have in common is their love for alternative music. For this campaign we'll obviously aim for the same target audience.

The campaign is in essence a PR stunt for the band, as they can't tour at the moment. The goal is to keep the momentum from Lollapalooza going, but also to promote the new single and the band in general. The common thread throughout the campaign is obviously dad vibes. As the single and Fred Durst's look is meant to poke some fun, the campaign will do the same.
As the band decided not to tour anymore this year because of COVID, the Dad Vibes campaign will be entirely digital. Besides the practical  reasons, it also makes sense when doing a deeper dive into the target audience. As you know, Millennials and Gen Zers are digital natives. So they definitely know their way around technology.
Specifically, the leveraged platforms for this campaign are TikTok, Instagram, Twitch and YouTube. On top of that, we'll also host a podcast that will be available on Spotify, Apple Podcasts and Google Podcasts. This campaign will be completely organic, so no paid media will be used.
TikTok: stitching it up with dad jokes
While short-form video sharing app TikTok is the most popular social media platform amongst Gen Z, it's also one of the platforms Limp Bizkit and their dad vibes went viral on. So it's logical to leverage this in the Dad Vibes campaign. On top of that, the app is gaining popularity with millennials.
And one of the most used features on TikTok is definitely the Stitch tool. This tool gives users the ability to integrate scenes from another user's video. Currently this is used a lot in a question and answer style, which is exactly the way we'll use it in the Dad Vibes campaign.
Next to that, there's also the Duet tool which allows one user to react to another user's video, while both are visible on screen.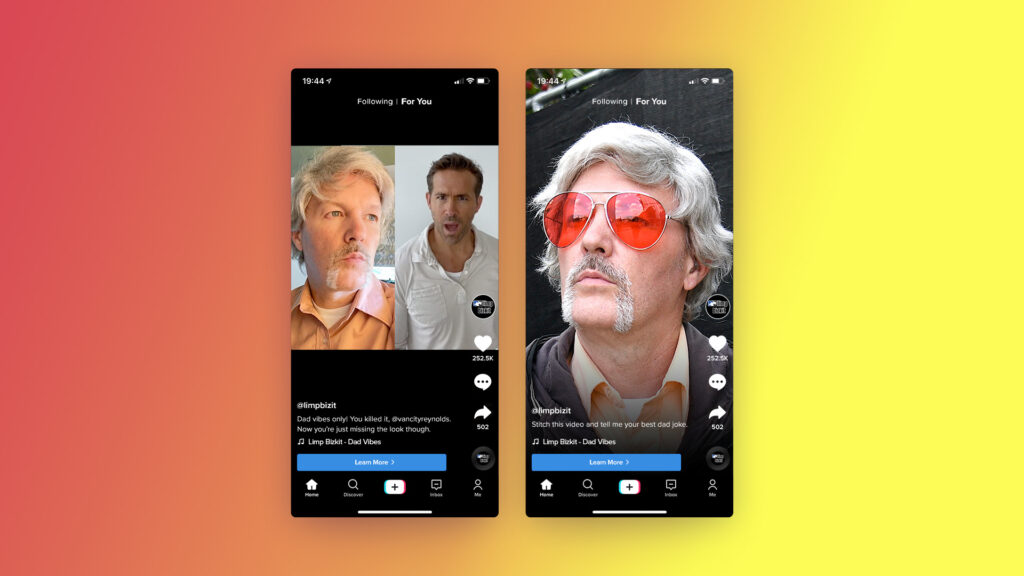 You know what screams dad vibes? Dad jokes, duh! In the stitch frontman Fred Durst, in his dad vibes look, will challenge people to the following: "Tell me your best dad joke. I'll go first. How does a man on the moon cut his hair? Eclipse it." In the background of the stitch, you'll obviously hear the new single "Dad Vibes".
The goal now is to get other users to use the first part of the stitch and then add their own dad joke. To set things off, we'll have some famous dads on TikTok stitch the video as well, like Jack Black, Travis Barker and Ryan Reynolds. In these stitches, the single will also be used as background music. By the way, the connection with Hollywood is a natural one for Limp Bizkit, as they've done the soundtrack for various Hollywood blockbusters and have multiple videoclips starring celebs.
On top of that, the band will react to some of the best jokes by using the Duet tool.
Instagram: #DadVibesFilter


A whopping 1 in 3 Instagram users are aged 25 to 34. This means that the photo and video sharing app is perfect to reach Millennials.

On Instagram it's best practice to combine different types of media within 1 campaign, like video, photos but also filters, as a mix will allow you to rank higher within the algorithm.

Besides that, filters are considered as a powerful tool to create awareness and engagement when launching new music.
First of, the band will post old family photos with their dad or their kids and homemade videos in combination with a funny story from back in the day on their Instagram Feed. These new posts will be teased on Instagram Stories, in order to make people curious and check out the post.
Obviously, we'll also tease the creatives from other platforms here, as we can easily link them in IG Stories. But we'll also take the users behind the scenes, give them funny updates, like for example, Fred's dad outfit of the day, …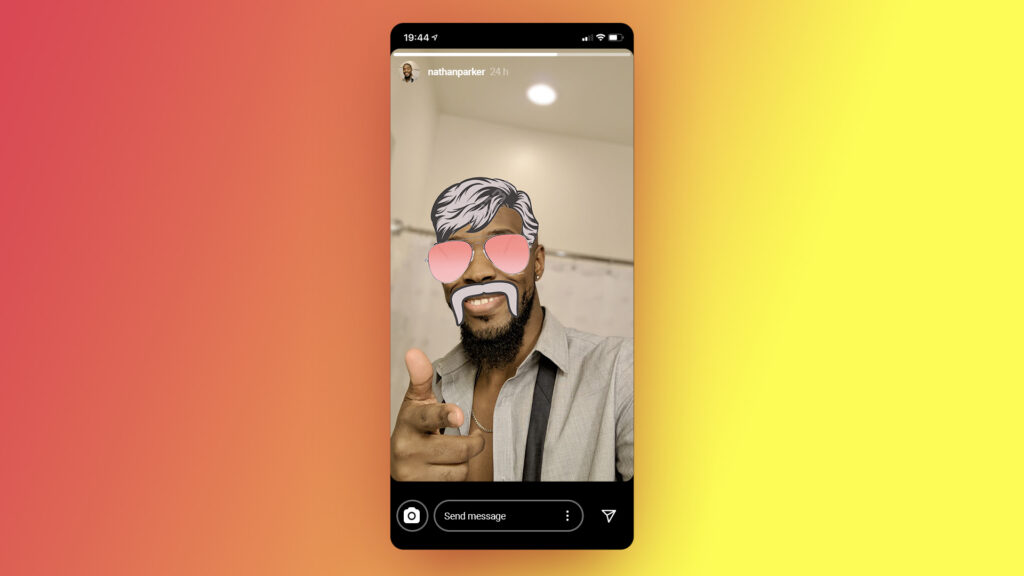 Next to that, we'll create a filter for Instagram Stories that will enable users to give themselves a Dad Vibes makeover, just like Fred Durst. This filter will again be teased in the band's IG Stories and users can obviously tag the band. They will repost the funnest renditions on their Stories.
You may instantly think of gaming when I mention the live streaming app Twitch. The matter of the fact is that it's also big for musicians. Trivium frontman Matthew K. Heafy for example has 220.000 followers on the platform and over 10.000 viewers in one livestream session.

That's a lot of eyes on you. And those are mainly Millennial eyes, as 55% of audience members belong to age group 18-34.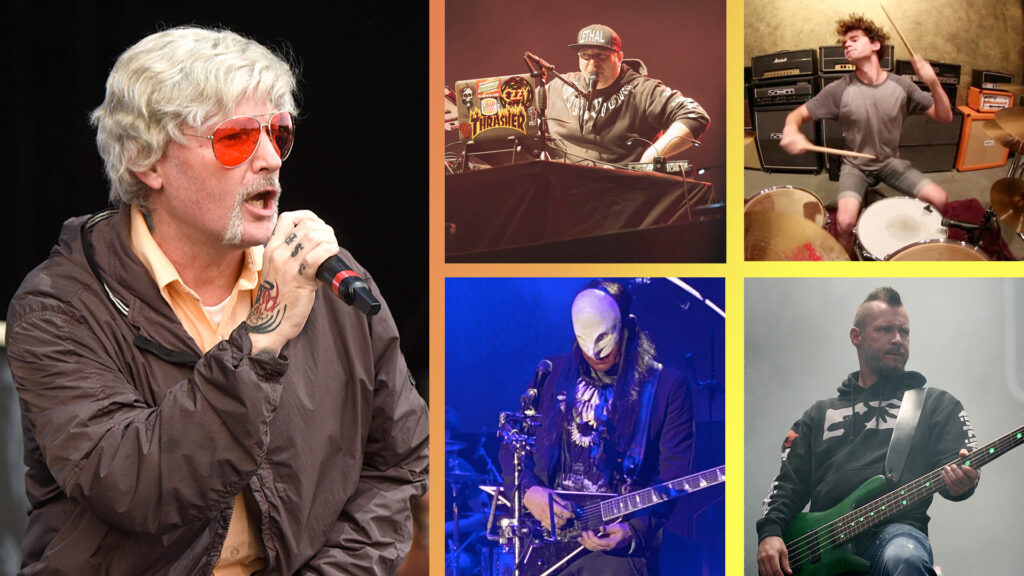 Never underestimate the power of a live performance. And since the band can't tour currently, streaming a lockdown performance is the next best thing.
In between songs, the band can interact with viewers through the chat. They can even give them control over the setlist by asking in a poll which songs they want to hear. This adds an extra element of interactivity to the performance that makes it quite unique and a must to watch.
For the gig we'll partner up with Twitch itself to hype it up, as a big band like Limp Bizkit performing on Twitch is also a win for them.
Podcasts are a series of audio episodes around a common theme. Basically, they are the new radio. At least for the younger generations: half of all podcast listeners are aged 12 to 34.
Podcasts are more popular than ever because of the pandemic, so this is definitely a medium that needs to be integrated into the campaign.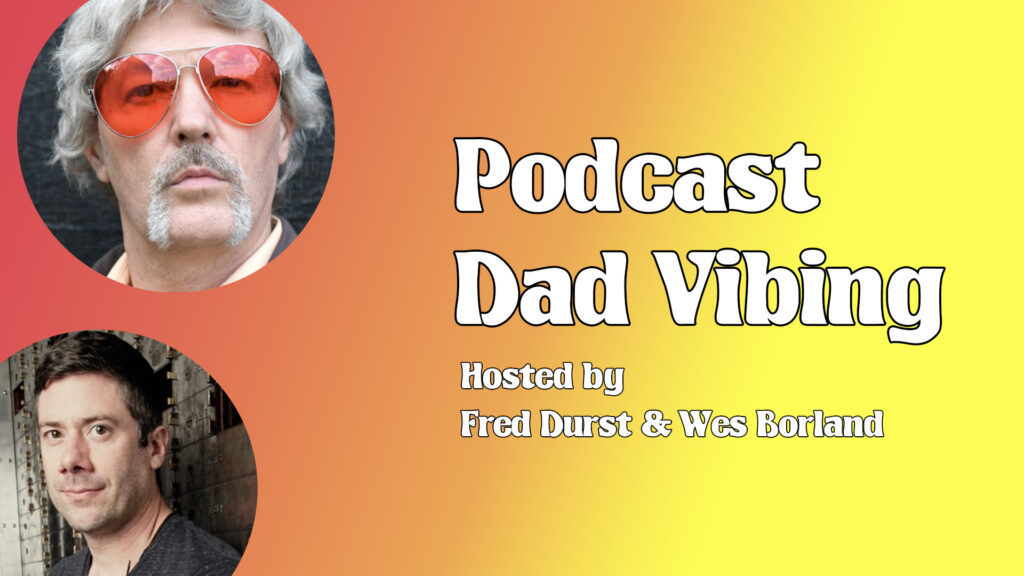 Frontman Fred Durst and guitarist Wes Borland will host the podcast Dad Vibing. For this podcast the duo will invite famous dads to have a conversation about their dad vibes antics.
Guests will include Tommy Lee, Ozzy Osbourne, Ben Stiller, Jack Black, Machine Gun Kelly and Travis Barker. The themes will be closely linked to the guests, for example the theme will be "Dad Vibing: Snorting ants or nursing your kid?" when Ozzy Osbourne and Tommy Lee come by.
The podcast naturally is a good starting point to create content for other platforms, like a behind-the-scenes or a Q&A on Instagram, memes of the funniest snippets on TikTok, …
The podcast will be hosted on Spotify, Apple Podcasts & Google Podcasts, as these are the three most popular players in podcast broadcasting.
YouTube: premiering the Dad Vibes videoclip
Did you know that 36,2% of the total YouTube population are Gen Zers and Millennials? In fact, the video sharing platform is the second biggest social network worldwide.
One of the coolest features on YouTube is YouTube Premiere: a mix between a traditional video and a livestream. Although the video is prerecorded, it goes live on a set air time and there's a live chat where users can interact with the creators.
One of the key elements of this campaign is obviously the premiere of the Dad Vibes videoclip. Back in the day, when music on MTV was still a thing, so basically in Limp Bizkit's glory days, videoclip premieres were a big deal. With the premiere of this videoclip we want to create the same buzz around it. That's why we'll use the Premiere feature.
This way, subscribers will see the video premiere pop up in their subscription feed beforehand. In one click they can easily set up notifications for the premiere, which means they'll get notified 30 minutes and right before the actual premiere.
We'll also create a teaser of the videoclip, which will be added on the Premiere watch page. On top of that, the band will be chatting live during the premiere, which is even more an incentive to check it out live.
Obviously, the premiere will also be promoted on the other platforms.
I am in no way affiliated with Limp Bizkit, nor is this a real campaign for the band. This case just came about as I myself am a big Limp Bizkit fan and wanted to conceptualize a social campaign for a band near and dear to my heart.

Curious to see another social campaign I came up with? Check out my case for Vans Comfycush.